Simplify with an automated,
customizable solution.
Managing Admission & Enrollment
has never been easier.
From inquiry through enrollment, TADS adapts to the needs of your school, easing the experience for your admission team and your families. No matter the size of your school or the number of seats you need to fill, the TADS Admission & Enrollment solution will deliver; freeing you to spend more time engaging with the students and families that make your school unique.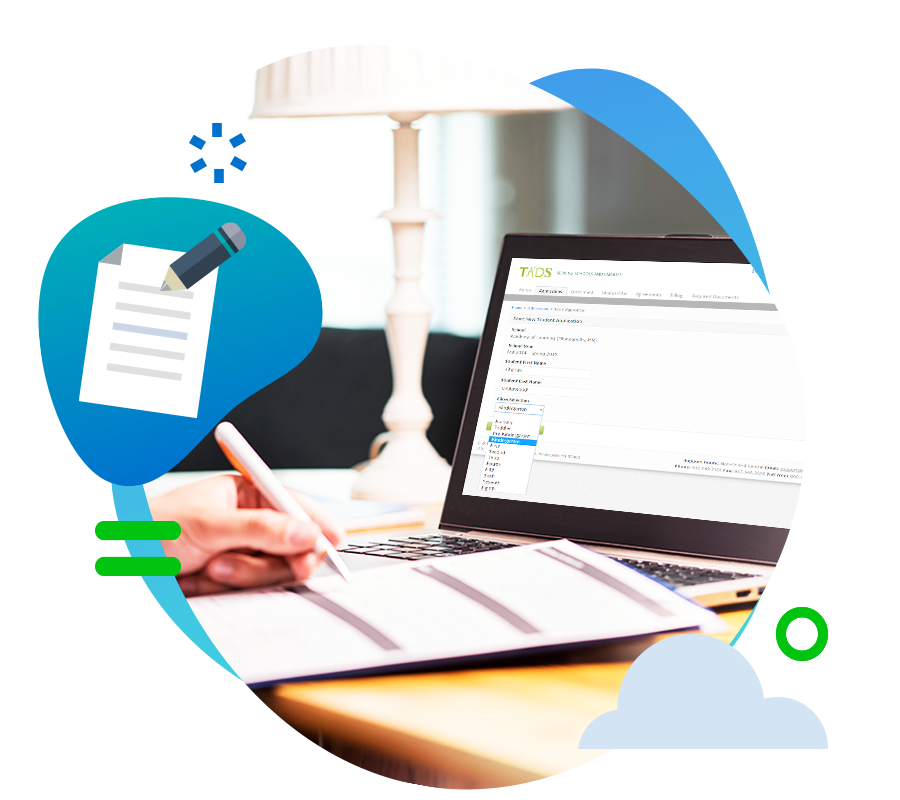 Automated Solution.
Real time tracking.
The easy-to-use TADS admission solution allows families to complete school-branded applications and upload documentation online. Acting as an extension of your admission team, TADS works with families on incomplete applications and accepts payments.
Admission leaders can effortlessly read essays, view submitted documentation, accept or decline applicants and so much more. Real-time reporting keeps the data you need at your fingertips and your admission strategy on track.
Integrated for accurate and efficient data flow.
Student information flows from Admission to Enrollment with ease allowing families to complete the process efficiently. Enrollment contracts are pre-populated and shared electronically to families for easier completion. And you can collect fees at the time of signature– your business office will be thanking you! Each step of the process provides a positive experience for staff and families alike.
Online document management
Collecting required documents can be an arduous part of the admission process – for your school as well as for the families applying. TADS eases this task, making it much simpler for everyone.
Customized application setup
Online applications reflect the identity and branding of your school.
Convenient online system
Families access a modern system to download and submit applications at their convenience.
Required document setup
TADS pre-populates fields in your required documents (where the data exists), improving the experience for families.

Application tracking
Schools can track application progress by student and receive notification with each submission.
Document viewing
Schools can conveniently access submitted documents and review them online. TADS works with families to collect missing items.

Online reporting 24/7
Extensive reporting gives schools insight into demographics, application status and more.
Fee Management & Collection
Convenience for families. Consistency for the business office.
Schools can collect application and enrollment fees online within the parent portal, providing added convenience for families and ensuring accurate payment documentation for your business office.
Fee Collection: Allow parents to make electronic payments at the time of application submission.
Managed Fees, Credits and Discounts: Collect and track application and enrollment fees in one location. Applicable discounts auto-calculate based on school-defined criteria.
Admission & Enrollment features
School-branded application
Automated supporting documentation management
Integration into Financial Aid and Tuition & Billing Management
Premier school and family experience
Professional, experienced support team
"Waldorf schools are unique entities with site-based management. TADS allows us the most freedom to customize our services to meet the needs of our individual school."
— Emerson Waldorf School, Chapel Hill, NC
Why Use TADS Management Systems for Tuition and Billing?
The convenient features offered as a part of the TADS Tuition and Billing Management system will improve your school's operations and help you provide better services. When your staff spends less time collecting and reporting information, they'll have more time to handle other responsibilities. If your families have questions regarding their invoices or payment plans, TADS will communicate on your behalf.
We'll provide comprehensive, timely support for any concern. Our agents are also here to help your staff understand the management system.
Get Started With TADS
Tuition management systems can make a significant difference for your institution. To learn more about how your school can benefit from the TADS Tuition and Billing Management system, request a product demo or contact our staff today!